2017年09月17日 | 日
Music Extension Part 1 (音楽ループミックス、1章)

Hello, everyone. This is the first time I creating blog like this. Well, most of you wants to make a song of your dreamed extended perfectly, right? Seems no one done this kind of tutorial before. Here is my tutorial.
Things I use is FL Studio 10, I recommend you to use not older than version 10 as there may some limitation that I don't know. And make sure when you start the project, start it from File>New From Template>Minimal>Empty, in case the limiter turned on. And in the timer (says 1:01:000), there is box in the left side says "B" and "M". Change it to M since we might not need beat based timer because seeking perfect tempo for certain song is hard and takes lot of time.
The song itself is from RetroSpecter-san channel in YouTube, here is the link.
https://www.youtube.com/watch?v=kAPHS7UBwIE
First up, drag and drop the music to the Track 1, make sure it is placed at most upper left corner which is on beat number 1 as shown below and make sure the file name of the song you want to extend only has alphabet, numbers, and common symbol like - ( ) , . _ and never use special characters as when I input file with even hiragana on the filename, it comes to error with the bar was only a flat hair long.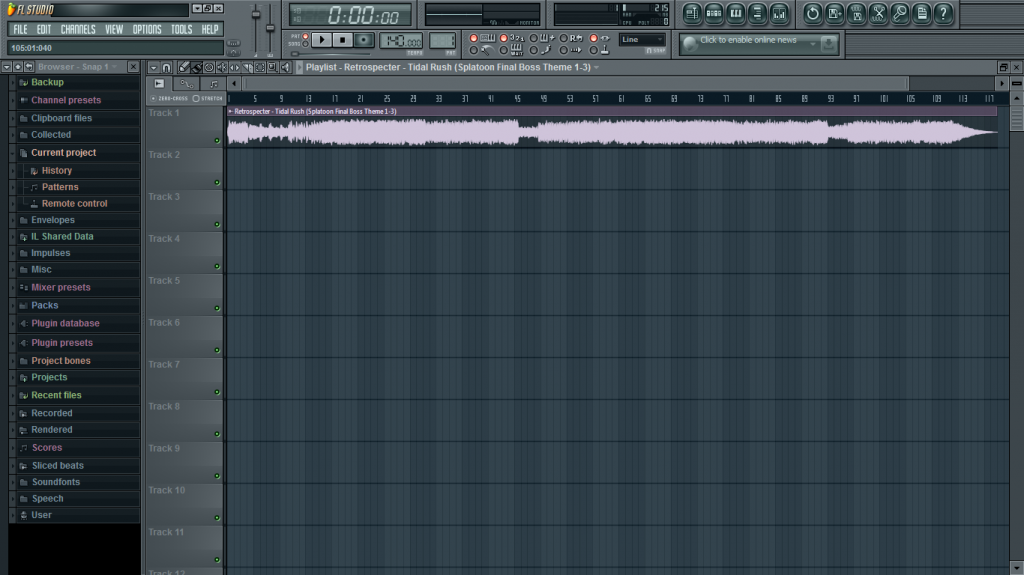 Let's take a look at the song. You may need to play 2 or 3 times to remember the song structure. You notice that the intro part stops here, right? It is around here (at second 14 to 15)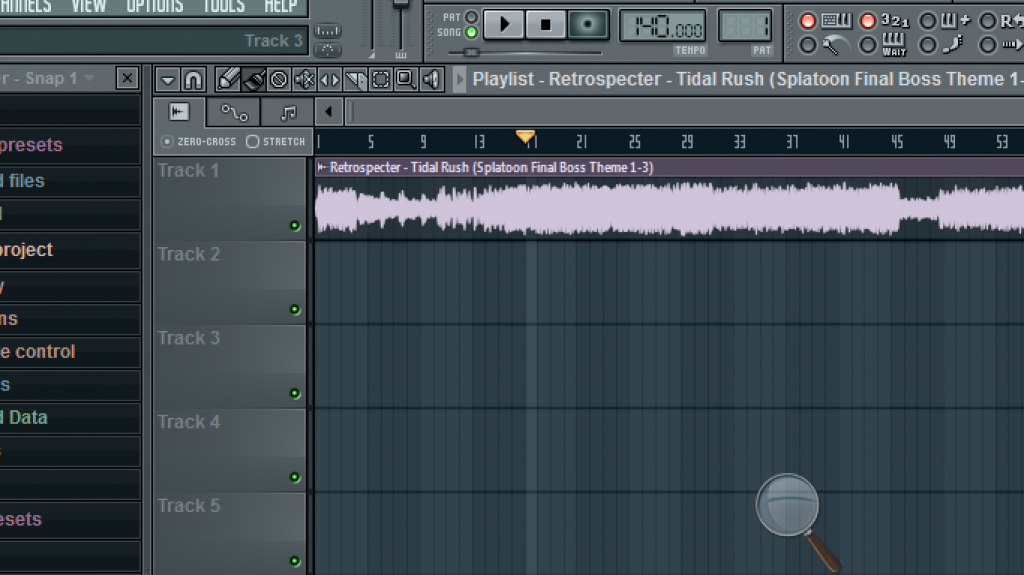 Now let's take a look for the counterpart that continue this part. Make sure it is as accurate as possible, there is possibility that the loop point usually placed at halfway of the song (noticed by the song looks like it already looped, mostly it was applied on video game soundtrack), and close to the end (usually it is a remix, or original songs)
Here is the first middle of the song. Starts from here we hear the Calamari Inkantation part.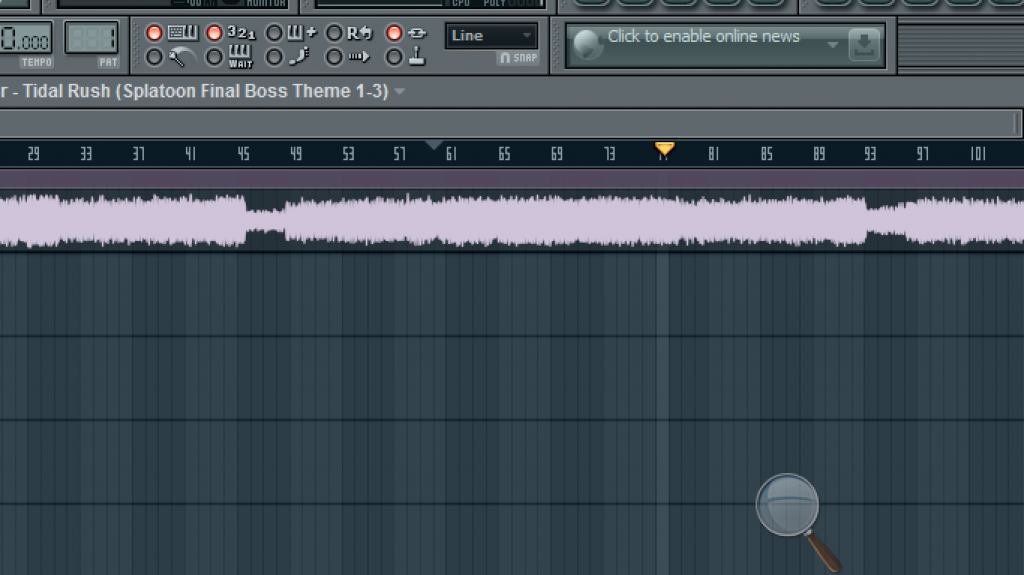 You notice there might be loop points here, but doing so, the song might heard shorter as there another part in the right side that has almost similar cooldown as on the left side. Keep that place for later in case we got another loop point that may be a true loop point, and let's take a look on that part.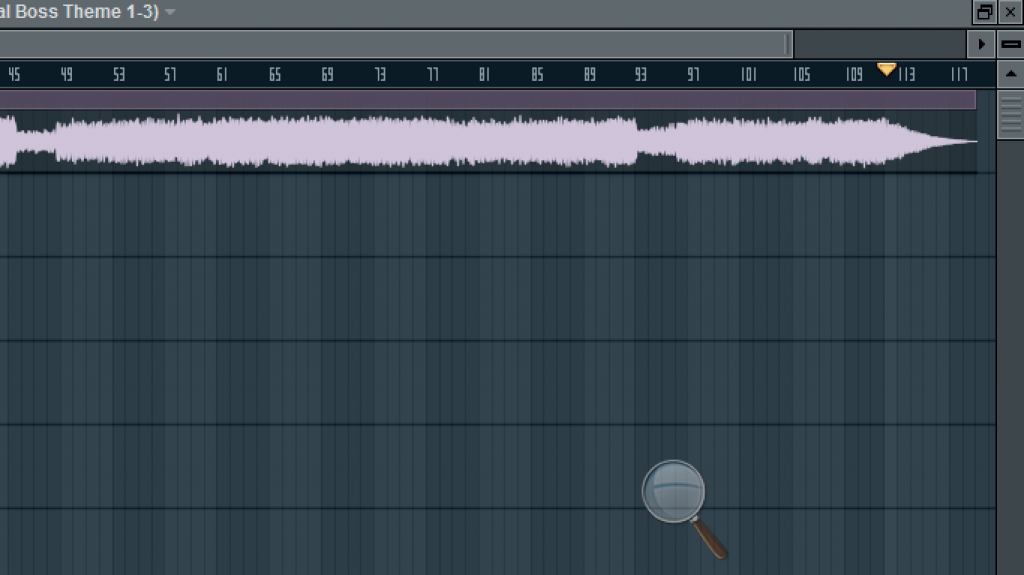 HEY! There is the I Am Octavio part, played in a little bit sped up. In the picture above, we notice the song almost finished. That means three things. Whether the song not have loop point, the loop point placed there, or the loop point placed on the place around Calamari Inkantation part. Look at the yellow triangle shown in the beat bar. even though the song faded out, but there's a similar looking melodies from the beginning part. If you kind of doubt on it, you can test those part by cutting it like these.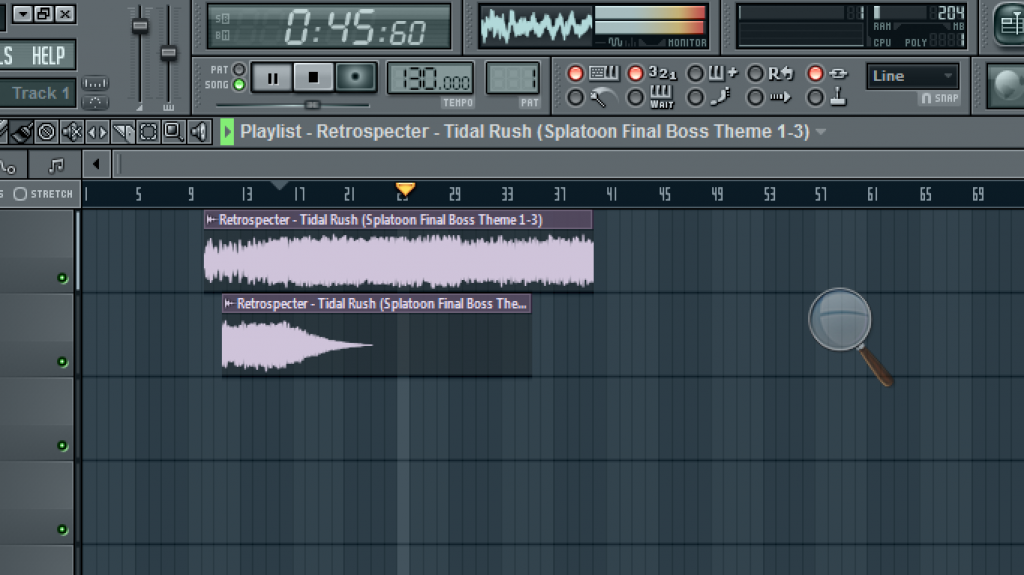 Do that on all the suspected loop point that you may think it is true loop point. Among all, my best pick is the part that close to fade out can be continued by the beginning part.
Okay, now let's cut those loop point. To provide a better accuracy, stretch the horizontal bar until the bar number goes further like image below.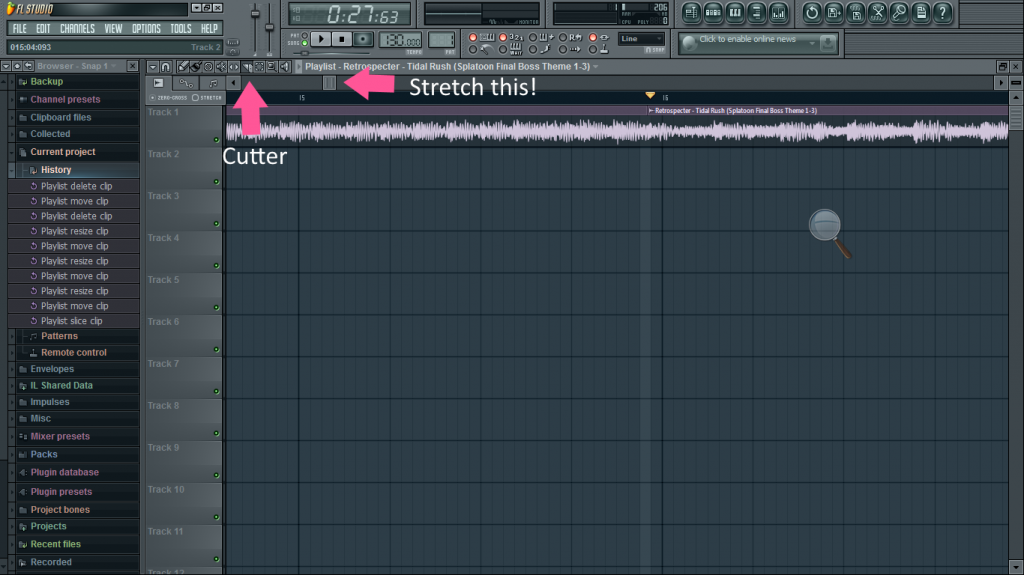 Slice the music wavebar from top to bottom. AAAAAAANNNNNDDDDDDD, we got a true loop point music sample worth this long (on the orange colored)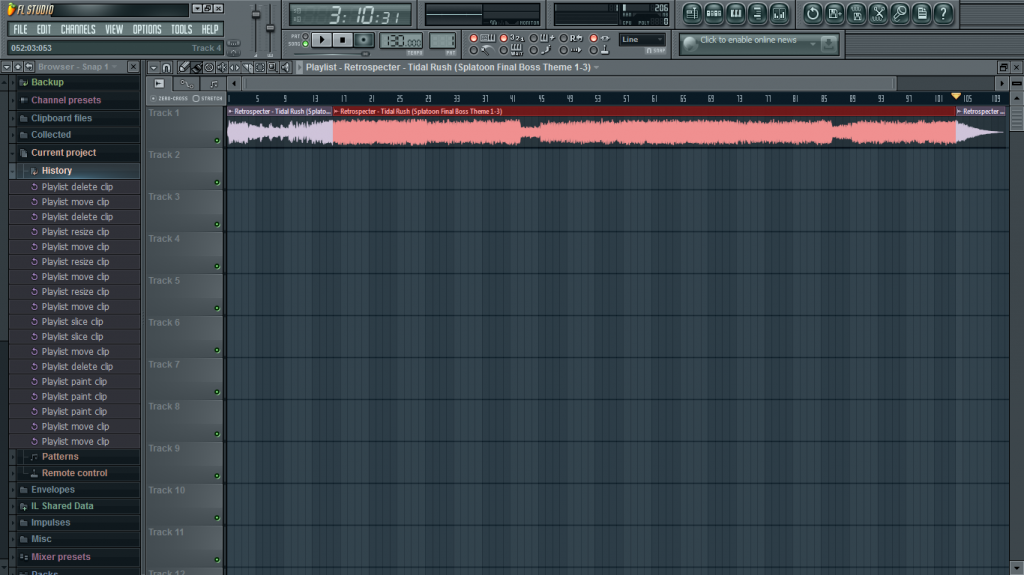 Make sure you revert back to paint icon (fourth to the left from that slice icon). Copy that part by left click it, and paste it by left click in the empty track 2 bar. Also delete the part which in greyed out in the image below by right click it. Don't forget to move back the copied bar by dragging to the track 1 back. Don't forget not to tight and leave a little space between them.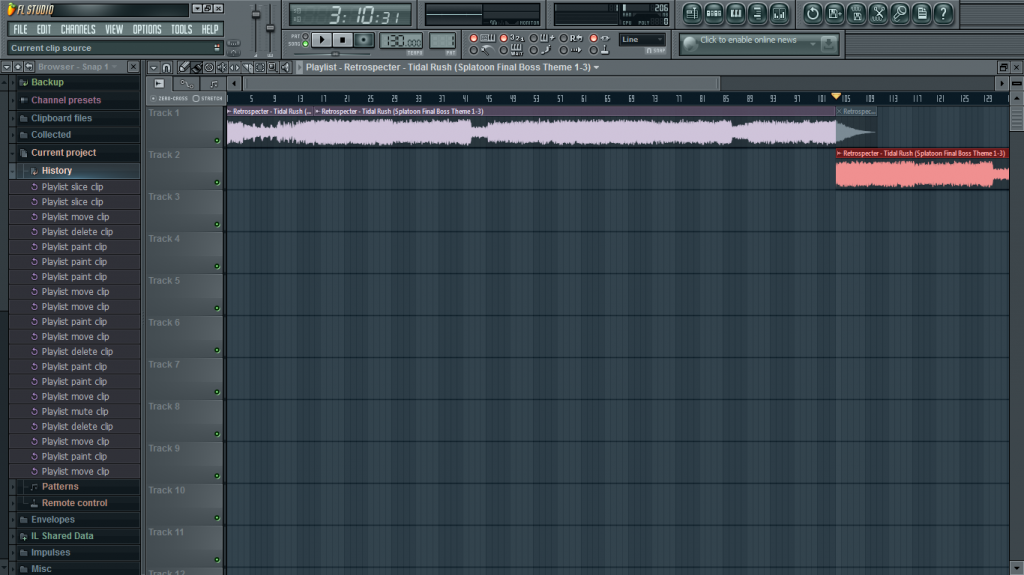 Now, we beautify the loop point edge. Notice that when you move the cursor to the most edge of each bar, the cursor change shape like ↔ with one side is larger. Before you do that, make sure the grid snapping is changed to "events", this is how to make sure it is changed. Click the magnet icon, the rest just take a look at the picture below.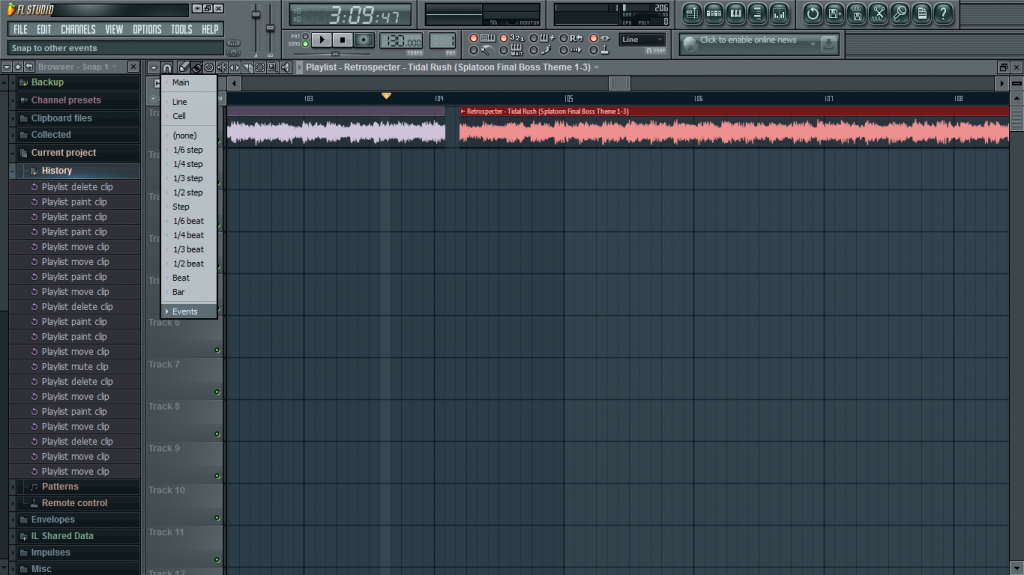 Now the bar can be resize freely, but don't get too close with another bar as it will stick out immediately. To make things even better, here is my suggestion to make the loop point don't get buggy.
1. Fix the left edge of the copied bar.
2. Fix the right edge of the original bar.
3. Stick them by dragging the bar, since we set it to event, the process done imediately as you drag it close, this shown by both bar colored purple.
4. Play the cutted part, and if it still not quite right, separate the bar, and repeat process number 1.
5. After it sounds perfect, delete the copied bar, and copy from the original one, recalibrate the left edge of newly copied one.
6. After it is done, left click click the copied bar, and widen the horizontal scroll bar by thicken the scroll bar using the music bar method, drag to the left, widen it again, until the bar number shown 999 and you cannot drag the scroll bar any further, mass copy it by hold left click and drag it until 999th bar. (don't worry, you can continue to copy over the 999th bar, but it is a little bit painful)
It will be looked like this.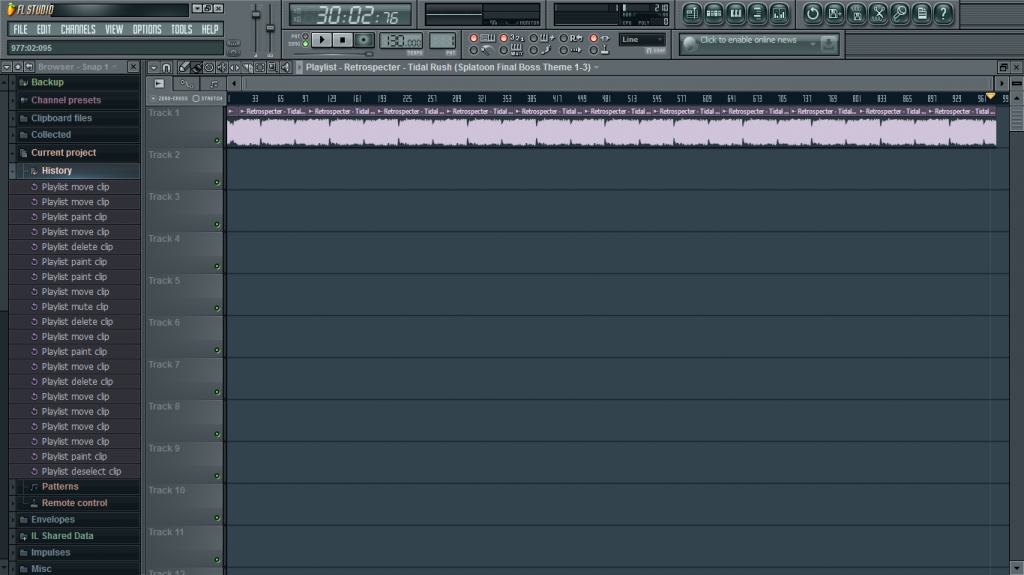 Drag the bar until it shown around last 20 bar of the song. Copy one bar more, and cut that bar to only around 2 to 6 seconds (this is for fade out purpose)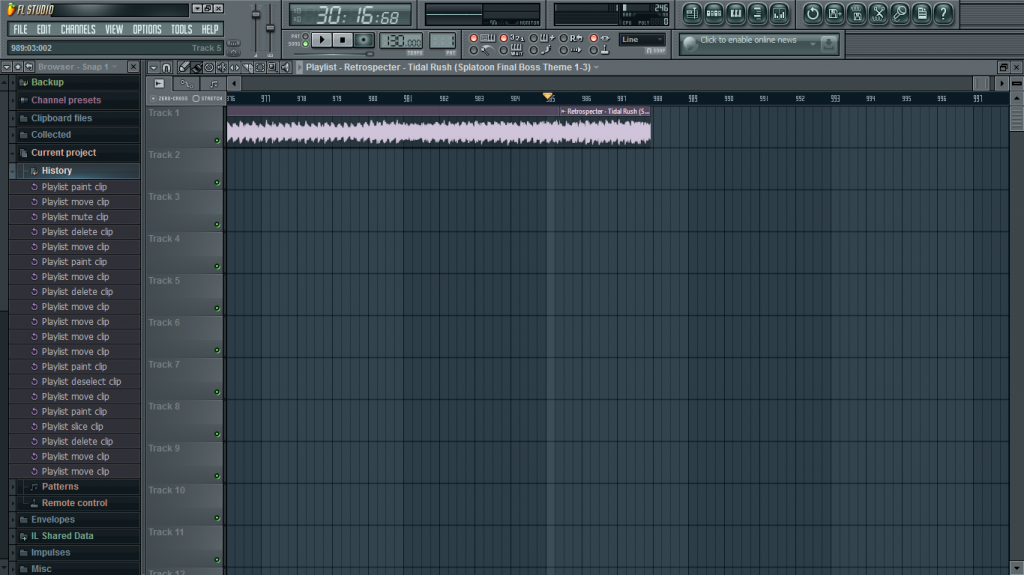 HOW TO FADE OUT
You notice there is a triangle like icon beside the bar name, click them, and click the selection on image below.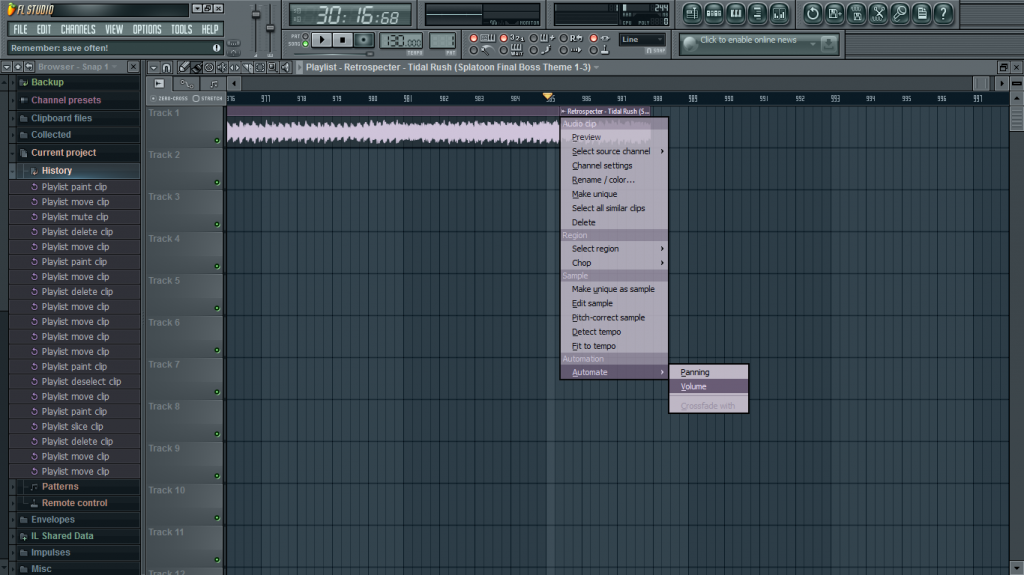 Then, a blue colored bar shown up. Immediately move it to track 2 as it will gone background if you click something else.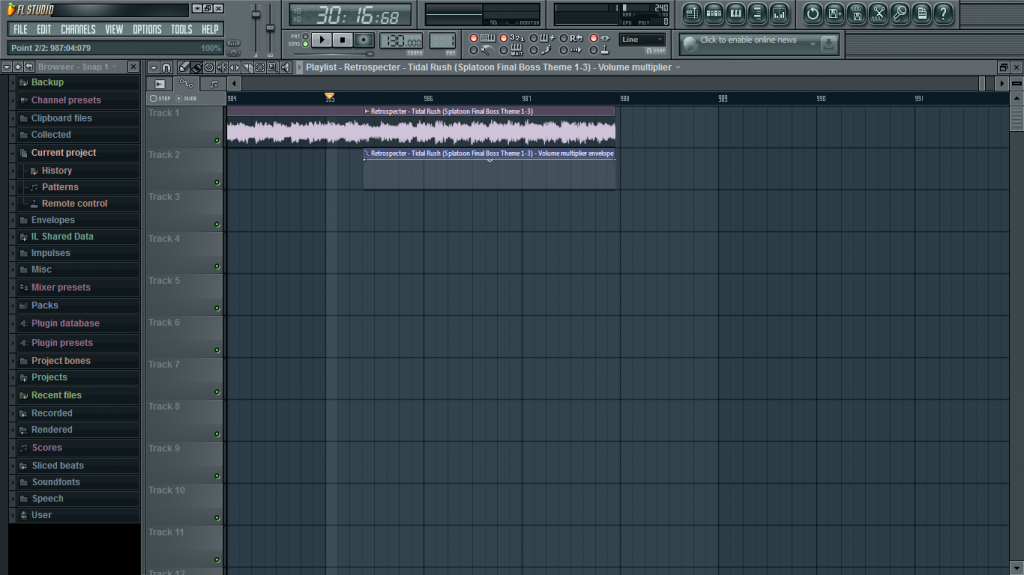 YES! This is also adjustable. Notice that there is small dot on the upper right edge on the volume multiplier envelope, and when you move the cursor there, it changed to pinching icon. Hold click it, and move it to the most bottom of that bar, and you also notice that the bar length may change if you drag it to the left or right. This is very useful situation so you don't readjust the length if you want to make it shorter fade out (and in purpose, leave an extra silence in the end of the song.)
※ You also can retain the original fade out. You don't need to add extra bar on it, (make sure the bar you copied don't red out, by right click anywhere in the empty spot) just drag the right edge of last part until it shows nothing. adjust as neccessary.
Now, to render the result and save the world (eh, is it too much?), just press Ctrl + Shift + R (Or Cmd + Shift + R in MacOS) and a dialog bar shows up. Set your wanted file name and path, and it shows another dialog containing render quality. To make the quality keeps better, use my setting, but for precisely 30 minutes song, it will need approximately 70~78MB per file.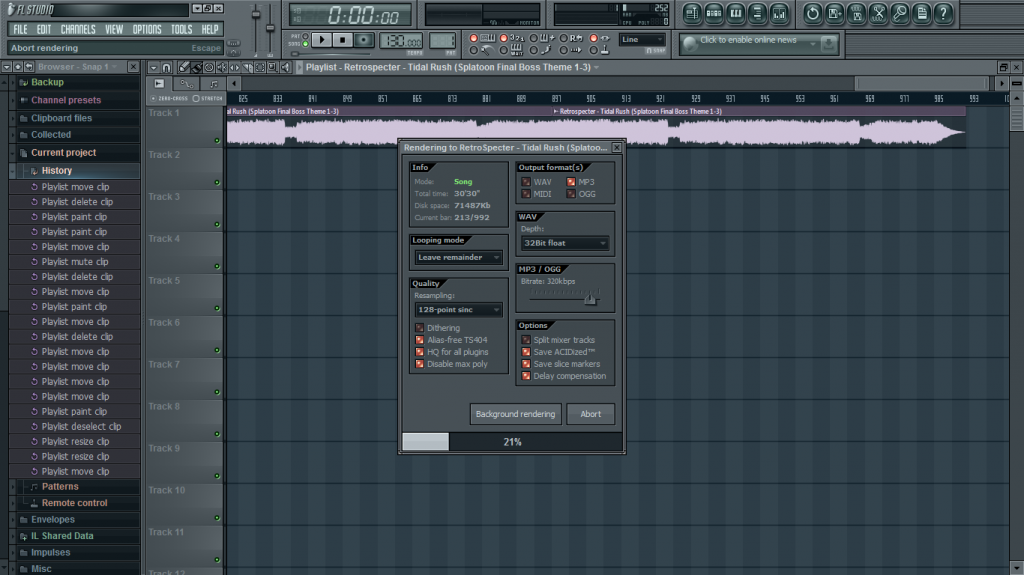 Press "Start" to start your process, or "Background rendering" if you want to use the computer for another purpose while rendering (it make render slower, notice that it will automatically reopen FL windows when the render finishes, so it may be annoying sometimes).
THAT'S IT! You have made your very first extended song!!! 「おめでとうございます! (^▽^)」. You will be capable to do it better at least after you try it for 20th time or so. Expert is a process. Next time we meet, I only give you hint on strange loop points. The one I shown above is still a common one, there may be loop point that require you to overlap it with the copied bar, the loop point is too short between two, fake loop point, or even there is two real loop point, providing you two looped song at one go.